Creation Gallery
Inspiration Gallery
Creation

We design original artworks according to your project, needs and budget.
Whether your interest is in institutional work or leaning more towards contemporary creations inspired by different styles such as Victorian, Art Nouveau, Art Deco, geometric, etc., we always try to respond to your needs according to the location where the work will be installed.
All stained glass panels created in our studio are custom made, respecting your choice of colour and design. Although we generally use traditional techniques such as lead cam or copper foil, we also use other techniques like slumping, fusing and laminating to offer you an exclusive work of art.
Each step of the work is created in our studio, from the design to the coloration right up to the time of installation.
Each panel is assembled with care and we guarantee the highest quality standards.
Regardless of the size of the project, whether a panel is to be hung in a window, an entry door, a skylight, a kitchen cabinet door, a staircase or an opening in a wall, we will help you make the right choice.
Restoration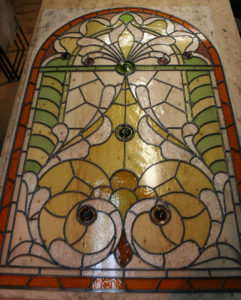 Ô Vitrô offers you the possibility to restore your old stained glass panels. Over the years, if exposed to severe weather conditions, panels need to be reshaped and restored to their former quality. Such work requires several steps: replacement of broken glass pieces if need be, soldering broken joints, releading, reputtying, straightening and cleaning. The panels are then reinstalled in their original or new frames or inserted in thermosetting.
We do our utmost to respect the integrity of your masterpiece whether it is for a residence, a church or a public building.
Gallery
Here you will find different samples of work realized by our studio.
The artists themselves offer several types of installations from their own personal creations and other works inspired by traditional styles in vogue in various time periods.
Estimate
To get an estimate of the production cost, you simply have to fill out our online form.